This article has been evaluated to be at quality level 5.
This article may seem complete to the untrained eye, but the gaps in information are still large enough for this elite team of Panauan Ninjas to hide inside of.
A Second Amendment is the second stronghold takeover that Rico completes for the Reapers in Just Cause 2.
Introduction
Edit
This is the second stronghold takeover that Rico completes for the Reapers faction.
It's at a military supply depot, in the mountains of the Lautan Lama Desert. This south-western stronghold is heavily guarded, so make sure you enter the fight with good weapons and full clips. Expect slightly more aggressive guards, as by now, you have surely rattled Panay's cage.
Walkthrough
Edit
Bolo Santosi does not seem to be totally convinced of Rico's loyalty to the revolutionary cause and so decides to give him another test of loyalty. As stated in the Reapers info (in the PDA), the faction attracts new followers daily - people who wish to shake off the oppressive regime, laid down by Panay, take up arms and fight for a better government. The only difficulty is, that there aren't many weapons for them to 'take up arms' with. And so, Bolo asks Rico to guide a team of Reapers into the Kem Gunung Gurun Supply Depot and seize it, which will not only give the Reapers all the guns they need, but will also strike a serious blow to the government's weapon inventory.
As usual, Rico and the team of faction soldiers, are dropped near the stronghold entrance by a helicopter (H-62 Quapaw). Be sure to use the large rocks for cover, while approaching the gate. After you've killed the guards, grapple your way over the wall and open the gate from the inside.
As usual, you'll have to fight your way through soldiers, on your way to the other side of the stronghold. Once you've taken control of that location, the Panau Military reinforcements will arrive, with a SV-1003 Raider. Hold your ground, until the Reapers technician has finished his work at the mobile radar.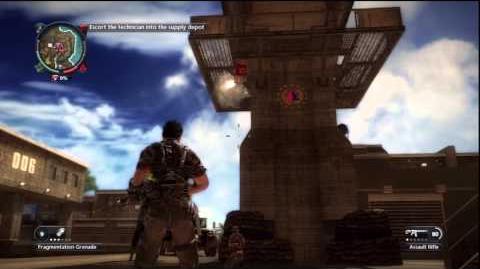 Ad blocker interference detected!
Wikia is a free-to-use site that makes money from advertising. We have a modified experience for viewers using ad blockers

Wikia is not accessible if you've made further modifications. Remove the custom ad blocker rule(s) and the page will load as expected.