Adiputera is a character in Just Cause 2.
Quote from the PDAEdit
"Colonel Adiputera is in personal bankruptcy due to his excessive cocaine habit and his tendency to ease his champagne hangovers with grade A heroin. Dealers of illegal substances however, dare not to cut him off for fear of being killed by the colonel's bloodthirsty and drug-crazed men. Neither does the military, due to his background in rocket science and satellite research. Adiputera is one of the best paid men within his rank, but he still manages to spend it all on drugs."
He is stationed at the Paya Luas airport, in Pelaut Archipelago at X:28410 Y:5705.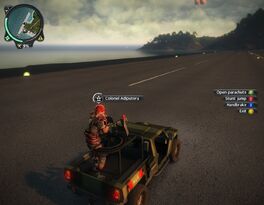 Ad blocker interference detected!
Wikia is a free-to-use site that makes money from advertising. We have a modified experience for viewers using ad blockers

Wikia is not accessible if you've made further modifications. Remove the custom ad blocker rule(s) and the page will load as expected.