Autostraad
is a company in
Just Cause 3
.
Description
Edit
It is a German corporation which makes civilian and utility vehicles. They seem to be a popular contract manufacturer, as many vehicles described under different names have been mentioned to be built by Autostraad, or have their badging and corporate grille. Its product range design and expendability is reminiscent of Mercedes and Volkswagen.
The name Autostraad is similar to the Polish word "Autostrada" which means highway.
Their logo may be an easter egg as it similar to Aperture Science's logo from the Portal Game Series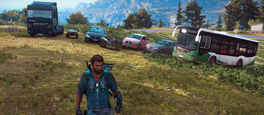 According to the Rebel drop description for the Autostraad Kletterer 300, Autostraad vehicles are very reliable.
Corporate grille
Edit
The Autostraad corporate grille is made of a split rectangle with a silver and black badge resembling an aperture placed between the gap. In the split sections of the bar are various parallel-running strips of chrome. An earlier version is featured on the Weltbus and features a single, thicker centerd strip of chrome.
The overall design seems to evoke both the BMW "kidney grille" and contemporary versions of Mercedes' historic "avant-garde". It also vaguely resembles Kia's "tiger nose" grille.
Ad blocker interference detected!
Wikia is a free-to-use site that makes money from advertising. We have a modified experience for viewers using ad blockers

Wikia is not accessible if you've made further modifications. Remove the custom ad blocker rule(s) and the page will load as expected.