This article has been evaluated to be at quality level 5.
This article may seem complete to the untrained eye, but the gaps in information are still large enough for this elite team of Panauan Ninjas to hide inside of.
The
Banco Nacional
is a
notable building
in
Just Cause (1)
.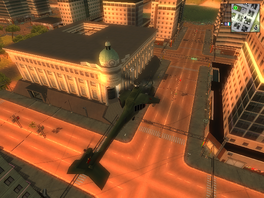 Description
Edit
This is the state bank in the nation of San Esperito.
It's a large 4-story building, the top view of which is shaped like a square. There are no windows in the walls of the first (ground) floor.
This is the only building that starts with the letter "B".
Main entrance
Edit
The main entrance is in the south-east corner. There are stairs leading to the large inaccessible doors. There's a clock above the door, on the wall of a small dome.
The main entrance is at the north-west corner of third Calle and forth Avenida.
Roof window
Edit
There's a large roof window, close to the north-west corner of the roof. The window has no glass, so Rico can use it to parachute into the safe room (see below). However, don't enter that way during the mission, unless you're good with the parachute. A bad landing angle here could cost a lot of health, or even get you killed.
Vehicle entrance
Edit
There's a large blast door in the southern wall, close to the south-west corner. It leads into a garage.
The inside of the building
Edit
The first room is a vehicle garage. The opposite corner of the garage has a door that leads into the safe room. The safe room can also be accessed through the roof window (see above). Normally large banks have a vault, instead of a mere safe.
It's located in the center of the northern half of Esperito City.
Mission appearance
Edit
The Banco Nacional is featured in the storyline mission  "Streets of Fire". In that mission, Rico has to hijack a lightly armoured money transporting truck from the bank's garage (or later from a road). The entrance is guarded by Black Hand soldiers wielding Haswell Gen2 Vindicators. The money truck is a Meister ATV 4, with Black Hand markings. It has no special perfomance abilities at all and is only worth keeping for its unique appearance. It is also the only time it appears.
Ad blocker interference detected!
Wikia is a free-to-use site that makes money from advertising. We have a modified experience for viewers using ad blockers

Wikia is not accessible if you've made further modifications. Remove the custom ad blocker rule(s) and the page will load as expected.