This article has been evaluated to be at quality level 5.
This article may seem complete to the untrained eye, but the gaps in information are still large enough for this elite team of Panauan Ninjas to hide inside of.
Bandar Baru Bukit Kuprum
Settlement in Panau
Type
Village
Territory
Berawan Besar Mountains
Coordinates
X:21730; Y:12260
Missions that take place here
Race: "Gunung Raya Downhill".
Bandar Baru Bukit Kuprum is a village/ancient town in Just Cause 2.
Description
Edit
It's a small settlement, consisting of a small group of stone houses and a
Gas Station
. A paved main road leads through the village, aside of that is a smaller dirt road. The settlement is located in a deep valley, below a large bridge, near
Bandar Gunung Raya
.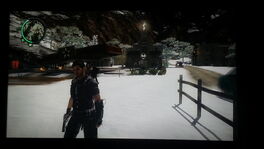 The name means "New copper hill town" in Malaysian, which could indicate that copper was once mined somewhere in the area.
Completion
Edit
Ad blocker interference detected!
Wikia is a free-to-use site that makes money from advertising. We have a modified experience for viewers using ad blockers

Wikia is not accessible if you've made further modifications. Remove the custom ad blocker rule(s) and the page will load as expected.