This article has been evaluated to be at quality level 5.
This article may seem complete to the untrained eye, but the gaps in information are still large enough for this elite team of Panauan Ninjas to hide inside of.
Bandar Jernih
Settlement in Panau
Type
Village
Territory
Selatan Archipelago
Coordinates
X:21750; Y:29720.
Missions that take place here
None
Bandar Jernih is a village in Just Cause 2.
Description
Edit
It's a medium sized village with many two storey wooden houses. These are among the better half of the civilian houses in Panau and indicate that the villagers are wealthier than average. There are also some small huts, one of which has a Drug Drop on its roof. The Panau Military have set up a Checkpoint at one of the roads.
"Bandar Jernih" is Malay for "clear town".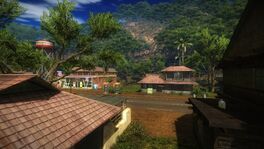 The village is located in a valley on the largest island of the area. The village is pretty close to and directly north of the coastal town of Pekan Kesuma and near the Carcavoda Mountain.
Completion
Edit
Ad blocker interference detected!
Wikia is a free-to-use site that makes money from advertising. We have a modified experience for viewers using ad blockers

Wikia is not accessible if you've made further modifications. Remove the custom ad blocker rule(s) and the page will load as expected.