Battaille GPT-6
Talk

0
1,008pages on
this wiki

The Battaille GPT-6 is an army truck in Just Cause (1).
Versions and locations
Edit
There are two versions of this truck. The commonly seen version has 6 wheels, but there's one storyline mission where the Guerrillas are seen operating two othervise never seen 4-wheeled versions.
Owner
Color
Location
Guerrillas (unique 4-wheel version).
Gray.
Guerrillas
Green.
San Esperito Military.
Gray.

Appears in some storyline missions as an army truck.
Can be seen being driven by the army, in and near their bases.
Costa Brava military base.
Isla Alegre military base.
Los Bravos military base.
Octava military camp (2 of them).
Quesada military base (2 of them).
Rosario military base.
San Cristobal military base.

Montano Cartel.
Purple.

Appears in the storyline mission "Test of Loyalty" as a drug transport truck, which must be driven carefully to a safe place.

Un-known (civilian).
Brown.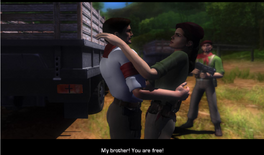 Other facts
Edit
It has 2 seats, but Rico can never have a passenger. The army always have 2 soldiers in the cab.
Its name seems to be based on the french word "bataille" which means "battle". This might mean that the company that produces Battaille GPT-6-es is french.
It looks like there might be a winch connected to the front bumper. It's common for army and special off-road vehicles to have winches, but it's impossible to use the winch in the game.
The front window looks like it can be opened for ventilation. This feature was popular in the 1930's and 40's, but is nolonger given to modern vehicles.
The cargo compartment has some wooden components to make it higher. That kind of removable wooden components were given to almost all army trucks and some civilian trucks of the 20'th century.
One can transport small helicopters with it. This requires carefully landing the helicopter of choice in the centre of the cargo frame and driving slowly. Note: Avoid driving up/down hills and don't make sharp corners too fast, or the helicopter will fall off and possibly explode, damaging the truck in the process.