Beached Whale
Talk

0
1,006pages on
this wiki
This article is about a dead whale in
Just Cause 2
.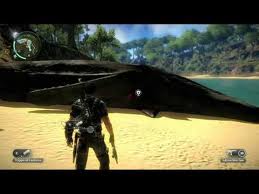 Description
Edit
The dead whale washed up on the shore has been called an easter egg by many people. See also: Easter Eggs.
The Whale appears to be a Sperm Whale, which grows to around 20 meters in length, in real life. The one in Panau is around 30 meters in length.
It's marked as an enemy, by the red aiming box. If shot it will explode, revealing an armor part upgrade. When the whale explodes, it releases a green gas that stays indefinitely. You can also see its ribcage. The most effective way to detonate the whale is by Triggered explosives, or the Grenade Launcher.
The whale is believed to be a reference to an event that occurred on the Oregon Coast in 1970, wherein state highway officials, trying to dispose of a beached whale carcass, attempted to blow it up with dynamite.
At about: X:29680; Y:31435.