The CS110 Archangel is a sniper rifle in Just Cause 3.
Appearance
Edit
It looks similar to an M-200 Intervention, but with a longer barrel.
For reasons unknown, the text on the side of the gun says "Capstone CS-111 Archangel". Text on the scope says "E SPR-L4".
Performance
Edit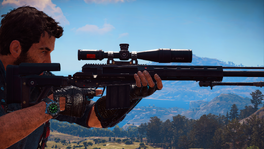 The
Rebel drop
description says "
The bolt-action Archangel quickly became a favority among snipers thanks to its dampened recoil, fast reload speed, and super sweet name.
"
It's a very useful weapon in terms of stopping power, but the low rate of fire makes it not very useful in close quarters.
Locations
Edit
It's built by the fictional company CS.
"Archangel" is an angel of high rank, usually associated with Abrahamic religions.
Other sniper rifles in Just Cause 3 are USV 45 Sokol and Final Argument. The last one is Downloadable content for Just Cause 3.
The Rebel drop description has a misspelled word. "favority" is probably supposed to be "favorite".
It's possible that the "SPR" in "E SPR-L4" might stand for "Special Purpose Rifle", which commonly refers to the Mk 12 SPR, a United States Special Forces sniper rifle made by the United States Navy.
For some reason, it says "CS-111 Archangel" on the side instead of "CS110 Archangel".

This might be a development error or oversight.

"Archangel" is also the nickname of Garrus Vakarian, who is a marksman in the Mass Effect series. The rifle's name may be a nod to his extreme accuracy.