Cava Grande Secunde

After completion, you can see Cava Grande in the distance.
Settlement in Medici
Type
Mine
Region
Insula Striate
Province
Prospere
Coordinates
45.260, 39.823
Missions that take place here
None

Cava Grande Secunde is a military base in Just Cause 3.
Description
Edit
A
Bavarium
mine.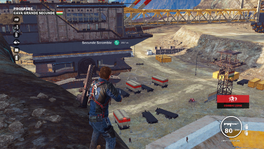 According to the in-game map: "On a clear day, the great Excavators of Cava Grande Secunde are visible from Citate di Ravello. Though smaller than its parent, Cava Grande, Secunde is no less successful a mine and no less a scar on the countryside."
Completion
Edit