This article has been evaluated to be at quality level 5.
This article may seem complete to the untrained eye, but the gaps in information are still large enough for this elite team of Panauan Ninjas to hide inside of.
Chameleon Ice
is an ice-cream in
Just Cause 2
.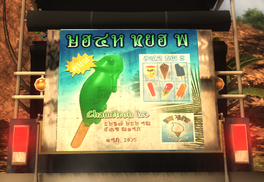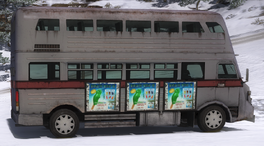 Description
Edit
It's one of seven ice-creams, produced by a local company in Panau. It's not known where the factory is located and nobody is ever seen eating any ice-cream.
Their composition is unknown, but it has been speculated that some of these may actually be frozen juice, as opposed to milk-based frozen cream.
Advertisements for chameleon ice and 6 other ice-creams can be seen on a lot of public transport vehicles. Unfortunately most of the advertisement is written in Panauan, so little is known about the ice-cream.
The ice-cream is green and shaped like a chameleon. It's on a wooden stick.
Both ice-cream trucks, Chevalier Piazza IX (which despite its name is actually an ice cream truck) and the Chevalier Ice Breaker, have advertisements for it, so it's safe to assume that they both probably have it available.
Ad blocker interference detected!
Wikia is a free-to-use site that makes money from advertising. We have a modified experience for viewers using ad blockers

Wikia is not accessible if you've made further modifications. Remove the custom ad blocker rule(s) and the page will load as expected.