This article has been evaluated to be at quality level 5.
This article may seem complete to the untrained eye, but the gaps in information are still large enough for this elite team of Panauan Ninjas to hide inside of.
The Chevalier Traveller SC is a pick-up truck in Just Cause 2.
Appearance
Edit
The pick-up truck with wooden planks in the rear cargo compartment. There are ladders mounted on the back using a rack. Like the other Chevaliers, its front half resembles that of the First Generation Ford Explorer Sport Trac.
It can be seen in black, dark red orange, dark blue, dark green and greyish white, the only exception being the sand yellow one at unnamed outpost at X:8300; Y:28370 and the military green one at X:5210; Y:31670.
The ladders can be knocked off if struck. The rest of the rack is solid, and will not fall off.
It's made by the fictional company
Chevalier
.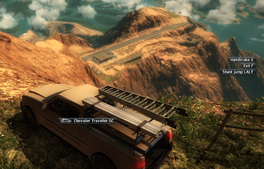 Performance
Edit
Its performance is very similar to that of the rest of the pick-up style trucks in the game, making it a good off-road solution. It is exceptionally durable, though, and can withstand a lot of gunfire before taking substantial damage. Because it can be found in the desert and snowy areas, cliff jumping is a good way to test its durability.
Locations
Edit
Mostly in traffic.
Ad blocker interference detected!
Wikia is a free-to-use site that makes money from advertising. We have a modified experience for viewers using ad blockers

Wikia is not accessible if you've made further modifications. Remove the custom ad blocker rule(s) and the page will load as expected.