Collectable Items in San Esperito
Talk

0
1,005pages on
this wiki
This article is about all the
collectable items
a.k.a.
collect missions
in
Just Cause (1)
. For any other collectable items, see
Collectable Items - disambiguation
.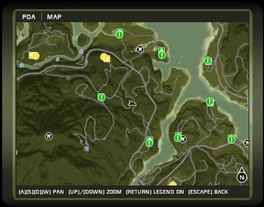 Description
Edit
There are about 15 different sets of collectable items in San Esperito. You can keep track of them on the PDA.
Obtaining a new one will start a "collect mission". This is not like a usual mission, so you can still save the game and do other missions before finishing. See also: Types of missions in Just Cause.
Each successful mission will give you a different number of progress points with either the Guerillas, or the Rioja Cartel. This will improve your rank in their armies and unlock new safehouses and different vehicles at your safehouses.
Finding them
Edit
Finding them is easy, because they're all marked on the map as blue dots.
All the different types of items look completely different: wooden crates; briefcases; realistic aircraft black boxes (link to wikipedia) and more.
Salt refinery... yeah right
Edit
| | |
| --- | --- |
| Name of the collect mission. | Salt refinery... yeah right |
| Faction. | Rioja Cartel |
| Locations of the items. | The salt refinery is located on a separate island at the nothern end of San Esperito. You will get a low level of government Heat for crossing the bridge, but there's no law enforcement on the island. See the video at the bottom of the page. |
| Description of the items. | Wooden crates. |
| Numer of items. | 10. |
| Mission info at the start of the mission (displayed on screen). | The Montanos have stashed ten packages of pharmachy-grade coca in the salt refinery next to the El Grande prison. Find them all. |
| Mission info at the end of the mission (displayed on screen). | None, other than the upgrade that the points give. |
| Points for each item. | None. |
| Points for a successful mission. | 50. |
Staying power
Edit
| | |
| --- | --- |
| Name of the collect mission. | Staying power |
| Faction. | Rioja Cartel |
| Locations of the items. | At the El Volcan. |
| Description of the items. | Small colorful boxes. |
| Numer of items. | 5. |
| Mission info at the start of the mission (displayed on screen). | It seems the volcanic prostitutes feed their customers with something more than just love. To topple this regime you must first steal the governmental "staying power", the potency-drug known as Niagara. |
| Mission info at the end of the mission (displayed on screen). | The government power is already shrinking alarmingly. |
| Points for each item. | None. |
| Points for a successful mission. | 30. |
| | |
| --- | --- |
| Name of the collect mission. | Red Eyes |
| Faction. | Guerrillas |
| Locations of the items. | Esperito City. |
| Description of the items. | |
| Numer of items. | 10. |
| Mission info at the start of the mission (displayed on screen). | The Agency has dropped ten units of infrared surveillance equipment over San Esperito City. |
| Mission info at the end of the mission (displayed on screen). | |
| Points for each item. | 10. |
| Points for a successful mission. | |
| | |
| --- | --- |
| Name of the collect mission. | |
| Faction. | Guerrillas |
| Locations of the items. | One is on top of the El Volcan. |
| Description of the items. | A blue rolled up sheet of paper. |
| Numer of items. | 4. |
| Mission info at the start of the mission (displayed on screen). | |
| Mission info at the end of the mission (displayed on screen). | |
| Points for each item. | 10. |
| Points for a successful mission. | |
| | |
| --- | --- |
| Name of the collect mission. | |
| Faction. | |
| Locations of the items. | |
| Description of the items. | |
| Numer of items. | |
| Mission info at the start of the mission (displayed on screen). | |
| Mission info at the end of the mission (displayed on screen). | |
| Points for each item. | |
| Points for a successful mission. | |