This article has been evaluated to be at quality level 6.
Bolo finds this pleasing, but she would like more.
Colonels
are
characters
in
Just Cause 2
.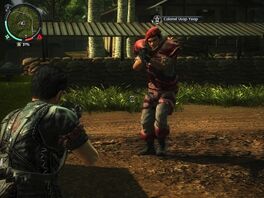 Description
Edit
Colonels are high-ranking members of the Panau Military. They can be found at numerous locations throughout Panau, but are generally located inside military bases and cities.
Colonels are about 240-250 cm (~7.5 ft) tall, armed with heavy weaponry and are equipped with red armour that is impenetrable. They are also surrounded by a team of highly trained and heavily armed officers. The only weapons that will harm them regardless of where you hit them are heavy weapons, like Vehicle mounted weapons, explosives and the Minigun. A few headshots will reduce health quickly though, allowing them to be killed with even a low level Pistol.
During Panau's enormous military increase tax dollars were wasted to give Colonels huge paychecks. Almost all Colonels have large mansions (some are stationed at their estates), most have their own private helicopters, one has a private jet and one has a solo propeller plane.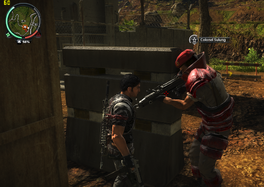 The standing place of a colonel is scripted to give Level 2 Heat if the player gets inside. However, this will not vanish after the colonel is assassinated. Instead, the area will always be restricted, but getting inside will also cause all military traffic to approach your position, and if spotted, you will get Level 2 Heat. This can be a serious problem on several places that have mounted guns or firepower that is much greater than yours, but also in Panau City and other civilian settlements, if you don't want to be disturbed in your activities by hostile Panau Military troops. Evading heat a few times may cause the restriction to disappear.
All colonels are armed with Machine Guns.
Reputation
Edit
There are many different colonels. Most of them have strange hobbies and/or personalities. The reputation and activities stated about many of the colonels in the PDA, are often against military morale. Many colonels drink, smuggle, cultivate drugs and more.
It seems there are several Muslim colonels as well.
Examples of their diversity:
Ways to assassinate
Edit
Each time you defeat a colonel, you'll receive 1000 chaos points, $5000 and also the morale in the area will supposedly be reduced. This can also be means of unlocking the next mission.
There won't really be any effect on the soldiers; the loss of morale is just text on the screen. In fact, they seem to start shooting at a faster rate if you kill the colonel first.
You will unlock the "Professional Hitman" achievement if you kill 25 colonels.
List of colonels, by area
Edit
There's a total of 50 colonels in Panau. An in-game list of colonels can be found in the PDA.
External links to maps
Edit