This page lists the downloadable extra content of
Just Cause 2
.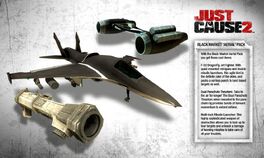 Downloadable content adds 6 extra weapons, 6 extra vehicles, an alternate parachute and the dual parachute thrusters.
Black Market Aerial Pack
Edit
It includes:
Black Market Boom Pack
Edit
It includes:
Black Market Chaos Pack
Edit
The Black Market Chaos pack is a DLC obtained by purchasing the limited edition of Just Cause 2. All these items are by now free, or seperate DLCs. In the PSN store the whole pack is available to download free.
Where to get them
Edit
Login to either Steam, PlayStation store or Xbox Live marketplace and purchase them, then download them.
Ad blocker interference detected!
Wikia is a free-to-use site that makes money from advertising. We have a modified experience for viewers using ad blockers

Wikia is not accessible if you've made further modifications. Remove the custom ad blocker rule(s) and the page will load as expected.