This article has been evaluated to be at quality level 5.
This article may seem complete to the untrained eye, but the gaps in information are still large enough for this elite team of Panauan Ninjas to hide inside of.

eDEN Extraction Site Alpha is a location in Just Cause 3, only appearing as a part of the Sky Fortress DLC.
Description
Edit
It's an outpost owned by the eDEN Corporation. It is an extraction site that extracts Bavarium. It's sister outpost is Eden Extraction Site Bravo.
The in-game map description is: "
Following Rico's successful "negotiations" on the eDEN Airship, Extraction Site Alpha was established by the eDEN Corporation near Di Ravello's massive mining site of Cava Montana to resume Bavarium extraction. The area used to be renowned for it's dramatic vistas and very rich soils. Sadly it's now infamous for it's barren landscapes due to the merciless hunt for Bavarium.
"
After completion this place will remain a "restricted area" and there will be a few Drones flying around, but it's not possible to get Heat.
Completion
Edit
There's no reward for completing this location, other than the rewards for destroying enemy equipment.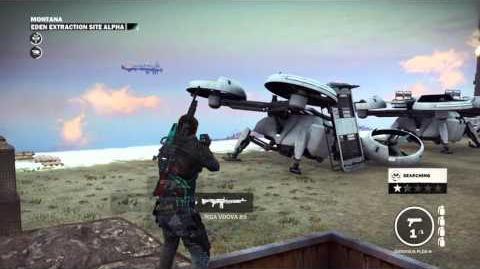 Ad blocker interference detected!
Wikia is a free-to-use site that makes money from advertising. We have a modified experience for viewers using ad blockers

Wikia is not accessible if you've made further modifications. Remove the custom ad blocker rule(s) and the page will load as expected.