F-33 DragonFly Jet Fighter
Talk

7
1,080pages on
this wiki

The F-33 DragonFly Jet Fighter is a fighter plane in Just Cause 2.
Description
Edit
It's based on the real life family of fighter jets, including the McDonnell Douglas F/A-18 Hornet and General Dynamics F-16 Fighting Falcon. Its nose and cockpit section resembles that of the Sukhoi 34. The Dragonfly also vaguely resembles the Rage-Johnston F6 Comet from Just Cause(1).
It's fully upgraded to 6 stars, by default. The F-33 is useful because it's the only armed plane that you can purchase from the Black Market.
Performance
Edit
The armament is somewhere between the
Si-47 Leopard
and
G9 Eclipse
, with four 
Miniguns
and dual rocket pods mounted under the wings.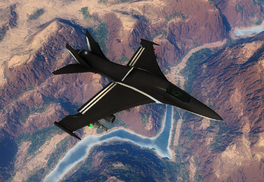 .
Being probably the most maneuverable and agile plane in the game, the F-33 DragonFly Jet Fighter is able to complete an aileron roll extremely quickly. The top speed of the aircraft is about 413.56 km/h (256.97 MPH), making it the fastest plane in the game. Click to see how it was tested (link to youtube).
Locations
Edit
This aircraft is not in the game unless you purchase the downloadable content "Black Market Aerial Pack". It can then be purchased from the Black Market for $100,000. It's fully upgraded to 6 stars by default, even though there are more vehicle parts in the game than are needed to upgrade all black market vehicles.