This article has been evaluated to be at quality level 5.
This article may seem complete to the untrained eye, but the gaps in information are still large enough for this elite team of Panauan Ninjas to hide inside of.

The F-33 DragonFly Jet Fighter is a fighter plane in Just Cause 2.
Appearance
Edit
It's a sleek, agile fighter jet with large wheels. The Dragonfly takes the place of the Rage-Johnston F6 Comet from Just Cause as the Agency jet fighter. It seems to resemble an F-16 Fighting Falcon and F-5 Freedom Fighter, but with dual tail fins and a rather strange looking cockpit.
Like most Agency vehicles, it can only be seen in black.
Performance
Edit
Its mounted armament is somewhere between that of the
Si-47 Leopard
and
G9 Eclipse
, with four 
Miniguns
and dual rocket pods mounted under the wings. As all other
DLC
, it's fully upgraded to 6 stars by default.
Being the most maneuverable and agile plane in the game, the F-33 DragonFly Jet Fighter is able to pull off aileron rolls with ease. The top speed of the aircraft is about 413.56 km/h (256.97 MPH), making it the fastest plane in the game. Click to see how it was tested (link to YouTube).
Locations
Edit
This aircraft is a part of the "Black Market Aerial Pack" downloadable content. After the transaction is complete, it can be purchased for $100,000 from the Black Market. It's fully upgraded to 6 stars by default.
The wheels of the Aeroliner 474 were reused for this vehicle.
Despite the name, this vehicle would be more of an attacker, considering it's only armed with rocket pods and miniguns.
This vehicle could be a successor to the Agency Rage-Johnston F6 Comet from Just Cause (1). Both are modern high-end fighters and neither spawns in normal gameplay.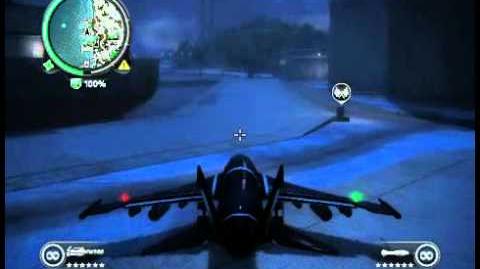 Ad blocker interference detected!
Wikia is a free-to-use site that makes money from advertising. We have a modified experience for viewers using ad blockers

Wikia is not accessible if you've made further modifications. Remove the custom ad blocker rule(s) and the page will load as expected.