Field of Dreams
Talk

0
1,007pages on
this wiki
Field of Dreams is a mission in Just Cause (1).
Introduction
Edit
Rico
meets
Inmaculada
at the
El Toro Loco
nightclub. She tells him to attack a
Montano Cartel
coca plantation.
Walkthrough
Edit
You'll be provided with an
HH-22 Savior
helicopter, but it's not recommended to use it. Instead, get yourself a helicopter with missiles. The best option would be the
Jackson Z-19 Skreemer
from the "Rioja 04 Eagles Nest"
safehouse
.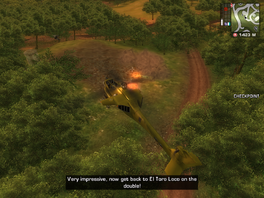 Get to the coca field.
If you don't have a helicopter with missiles, then this could be difficult. Othewise it's one of the easiest missions in the game. Fly so close to the coca field that you can see the plants. Then just fire missiles at the field until all the plants are gone.
There's a total of 6 small fields. The Montanos will send helicopters of their own after you, but they should be nothing to worry about for an experienced pilot.
When all fields are destroyed, get back to the El Toro Loco nightclub. Inmaculada will no longer be there. Instead you'll find her husband drinking alone.