This article has been evaluated to be at quality level 5.
This article may seem complete to the untrained eye, but the gaps in information are still large enough for this elite team of Panauan Ninjas to hide inside of.
Frisco Catshark S-38
Vehicle in Just Cause 2
Type
Speedboat
Weapons
None
Rarity
Rare
List of owners
Civilians
Roaches
Ular Boys
Reapers
The following statistics are from the official strategy guide.
Top Speed
75
Acceleration
60
Armour
45
Handling
65

The Frisco Catshark S-38 is a speedboat in Just Cause 2.
Appearance
Edit
It's a small speedboat, similar to the Snakehead T20 and the MTA Powerrun 77. Unlike most of the speedboat designs, which seem to be very much modern in styling, the Catshark is classic, most likely from the 1960's or 1970's. It has a wide, rounded monohull and a large supercharged V8 engine in the rear. There is a white stripe down the middle. It has the qualities of a Cigarette-style racing boat.
It only spawns in red and white, however in Be Quick or He be Dead it spawns in yellow and white.
Performance
Edit
It's very fast and has good acceleration, but is beaten by the SnakeHead when it comes to top speed.
Locations
Edit
Freeroam gameplay:
During missions: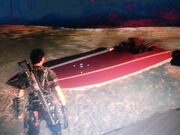 PC 
 Sometimes the one at
Kampung Nelayan-Nelayan
may appear to be there, but isn't exactly spawned.
Ad blocker interference detected!
Wikia is a free-to-use site that makes money from advertising. We have a modified experience for viewers using ad blockers

Wikia is not accessible if you've made further modifications. Remove the custom ad blocker rule(s) and the page will load as expected.