Game limits
Talk

0
1,008pages on
this wiki
This article is about all the known limits of the
Just Cause game series
.
See also: Maps.
Map limits
Edit
Just Cause (1)
Edit
Just Cause (1) has an invisible cube around San Esperito. Only jet fighters, like the Rage Johnston F6 Comet can get to the maximum height. Crashing into the barrier is harmless to the aircraft and boats. Whilst using an aircraft, a small little column appears next to the minimap indicating how high the player is and how far the ground below them is above sea level.
Game area is a cube. 1025 km in every dimension. This is one of the biggest areas ever for a sandbox style game. Unlike Just Cause 2, every aircraft has a height limit which is above cloud level.
Just Cause 2
Edit
In
Just Cause 2
it's impossible to get to the game height limit by any
plane
. Every plane and
helicopter
has its own set height limit.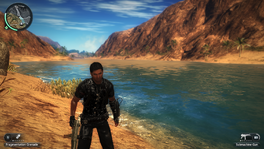 The only way to get to the maximum height is by the Hot air balloon, which does not have a maximum limit. When the balloon gets all the way up there, it'll start shaking and then disappear. The height limit is located over 7000 meters above sea level.
It's not known how far the horizontal limit is, or if it exists at all.
JC2 demo version
Edit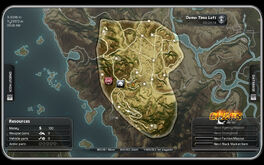 The demonstration version of Just Cause 2 limited the player to a small area in the
Lautan Lama Desert
.
Speed limits
Edit
Game limits prevent the Fixed-wing aircraft from flying at realistic speed.
In Just Cause (1) the jet fighters are about as fast as the slowest real planes.
In Just Cause 2 Modifying the game can make the aircaft fly at realistic speed, but the rest of the game can't keep up with that. This causes many objects from not spawning at all, or spawn too late. This will cause the player to crash into invisible bridges, buildings, trees and other things. This occurs even in the PS3 version, without any mods. An adequately powerful PC could theoretically prevent this problem, but ideally game programing should prevent this problem by spawning lower resoluton objects.
Vehicle existence limits
Edit
Both games let the player have only 3 vehicles. Entering a fourth vehicle will cause the first one to cease to exist, no matter how close to it you are.
Both games have a limit to how far you can go from the vehicle you last used, before it ceases to exist. The exact distances are not known but it is very short, vehicles will often dissappear right in front of your eyes.
Heavy drop
Edit
It's impossible to order another vehicle from the Heavy drop, if the previous one has yet to cease to exist. The game will say that "all the Agency helicopters are busy".
Extraction
Edit
Just Cause (1) has a time limit for Extractions. It's not known how long it is, but it's not possible to get extracted twice in short succession. The game will say that "all the Agency helicopters are busy".
Vehicle handling
Edit
The helicopters in Just Cause (1) seem to be faster than the ones in JC2 in every way, but as a disadvantage, they can't fly sideways. This is usually negligible and easy to get used to, but it's inconvenient when trying to land into a narrow space in a settlement.
In Just Cause 2 all land vehicles have their center of weight very close to the front end. This is realistic for only private cars and makes most vehicles terribly unstable at high speed. Especially off road.