This article has been evaluated to be at quality level 5.
This article may seem complete to the untrained eye, but the gaps in information are still large enough for this elite team of Panauan Ninjas to hide inside of.
The giant statue of
Salvador Mendoza
is a large political monument in
Just Cause (1)
.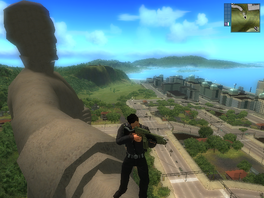 Description
Edit
It's entirely brown. The right hand is extended to a horizontal angle. The statue is facing north-west, to the city.
There's a smaller version of this statue in front of the presidents palace on Isla Dominio.
The statue is located on top of a hill on the eastern side of Esperito City, located near the race marker on the map. There is a small road leading to the base of the statue, on its southern side. The nearest safehouse is the Rioja 08 "Jackboot base".
Collectable item
Edit
There's a collectable item on the right hand. One should be very careful while approaching it with a helicopter, as a helicopter can easily explode when it crashes into the statue. The item can also be retrieved by a parachute.
If you want to use a helicopter, preferably use a small one, like the Whiptail Gyrocopter or even a Delta 5H4 Boxhead. See gallery below
Ad blocker interference detected!
Wikia is a free-to-use site that makes money from advertising. We have a modified experience for viewers using ad blockers

Wikia is not accessible if you've made further modifications. Remove the custom ad blocker rule(s) and the page will load as expected.