This article has been evaluated to be at quality level 5.
This article may seem complete to the untrained eye, but the gaps in information are still large enough for this elite team of Panauan Ninjas to hide inside of.
Gunung Condong

Front gate.
Settlement in Panau
Type
Military base
Territory
Selatan Archipelago
Coordinates
X:25730; Y:25700
Missions that take place here
None
Gunung Condong is a military base in Just Cause 2.
Description
Edit
The base is divided into three parts. The name means "Lean Mountain" in Malay and Indonesian. There's a small lake just to the east of the base.
This is the main part of the base. There are over 10 wooden barrack buildings here in different sizes, along with three hangars and destructibles. This part is connected to a public road via a small dirt road. There's an MV V880 near the gate, but it doesn't always spawn until you're close to it. This part of the base contains something very unusual for a military base: 4 small tables, each with 4 colorful plastic chairs. These are near a Generator, close to the northern edge of the base.
Middle part
Edit
Two helipads, three wooden Guard Towers and a few containers are surrounded by a wire fence. There's an AH-33 Topachula on one of the two helipads. This part is located south of the camp part of the base and can be reached by a steep dirt road.
Upper part
Edit
This part is located at least 50 m higher from the middle part and can be reached by another very steep dirt road, that goes from the middle part. This part is a standard Communications Outpost, with the usual Communications station, a wooden barrack building with a Medicine Cabinet and the other standard equipment. This part is located south-west from the camp part of the base, on top of a mountain. Unusually, the medicine cabinet is located under ground, but it still works when approached.
In the northern part of the Selatan Archipelago, north-west of Kem Pulau Kerbau. The base is near the top of a jungle covered mountain, but can be accessed by road.
Completion
Edit
Middle part
Edit
Upper part
Edit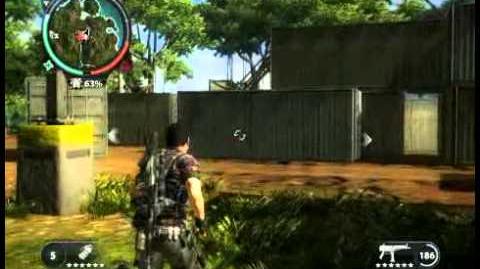 Ad blocker interference detected!
Wikia is a free-to-use site that makes money from advertising. We have a modified experience for viewers using ad blockers

Wikia is not accessible if you've made further modifications. Remove the custom ad blocker rule(s) and the page will load as expected.