Gunung Genting Tinggi
is a mountain in
Just Cause 2
.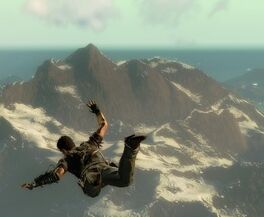 Description
Edit
The mountain is 1607 meters tall (confirmed by Parachute climbing) and is with that height the third tallest mountain in Panau, after the Snow Peak and Gunung Kedua.
The mountain is a steep ridge with cliffs found on all sides. Between it and Gunung Dataran Tinggi is a small hollow and between that and the Gunung Gila Pangkat Facility is a gorge.
The actual name of the mountain is unknown. For the purposes of this article, it was named after the nearby Lembah Genting Tinggi military base, which is located just north-west of it.
Just south-east of Lembah Genting Tinggi and south of Bukit Rendah, at X.16150; Y:8470. It should be easy to locate, by its height.
Ad blocker interference detected!
Wikia is a free-to-use site that makes money from advertising. We have a modified experience for viewers using ad blockers

Wikia is not accessible if you've made further modifications. Remove the custom ad blocker rule(s) and the page will load as expected.