Gunung Kedua
Talk

0
1,008pages on
this wiki
Gunung Kedua
is a mountain in
Just Cause 2
.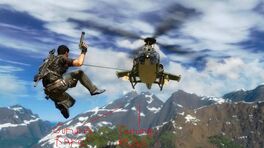 An actual name is not found in the game, but due to the mountain being the second highest in Panau and seen as the second mountain with its taller neighbor Snow Peak a.k.a. Gunung Raya, the mountain is hereby named "Gunung Kedua", which means just "Second Mountain" in Malaysian (Google translate).
Description
Edit
The peak is 1743 meters high.
The peak is located so close to the Snow Peak, that from far away people may think it's the same mountain. But there are several hundred meters between these peaks. These mountains have a well known profile on the southern side and can be seen from many places in southern Panau. The northern side is very steep and just like its neighbor, it's rising far above the last outpost of civilisation, Bandar Gunung Raya. But almost all people like to look up at Gunung Raya and not Gunung Kedua.
Points of interest in the area
Edit
In the Berawan Besar Mountains, just east of Gunung Raya, as said before. The peak can be spotted from a great distance.