Gunung Kudus
, also known as
The Holy Mountain
, is a mountain in
Just Cause 2
.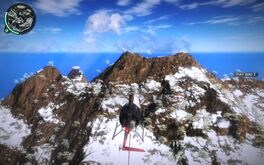 No name is actually given to it in the game. The name is derived from nearby settlements and means "The Holy Mountain" in Malay and Indonesian. This suggests that the mountain or its villages may have sites of pilgrimage.
Description
Edit
Gunung Kudus is 1560 meters tall. It's covered in snow, like the rest of the mountains in the area, which is not possible in real life at this low height.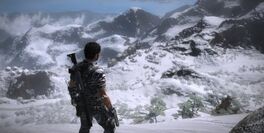 Just south-west of Kem Gunung Kudus, Berawan Besar Mountains, Tanah Raya, at: X:22300; Y:13100.
Missions in the area
Edit
Gunung Kudus Slackcountry
Holy Diver
Faction Missions
Edit
Nearest settlements to the top
Edit
This video is for the Challenge: "Gunung Kudus Slackcountry."
Ad blocker interference detected!
Wikia is a free-to-use site that makes money from advertising. We have a modified experience for viewers using ad blockers

Wikia is not accessible if you've made further modifications. Remove the custom ad blocker rule(s) and the page will load as expected.