HH-22 Savior
Talk

0
1,007pages on
this wiki

The HH-22 Savior is an armed transport helicopter in Just Cause (1).
Appearance
Edit
It's based on the Sikorsky UH-60 Black Hawk. There's 3 seats, but you can never have a passenger. It's the only helicopter in the game that always has it's side (cargo compartment) doors in the open position. Despite this, it's impossible to enter the rear (cargo) compartment of the helicopter, but it is possible to shoot through the helicopter with out damaging it.
Performance
Edit
This is the most average helicopter in the game. It can descend and ascend quickly and is quite a nice helicopter to fly. It can withstand 1 bad landing before exploding.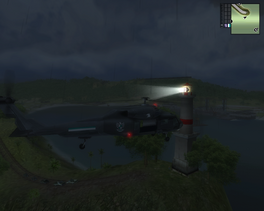 Versions and locations
Edit