This article has been evaluated to be at quality level 5.
This article may seem complete to the untrained eye, but the gaps in information are still large enough for this elite team of Panauan Ninjas to hide inside of.
Hutan Dalam
Settlement in Panau
Type
Military Base
Territory
Selatan Archipelago
Coordinates
X:23070; Y:27040.
Missions that take place here
None
Hutan Dalam is a military base in Just Cause 2.
Description
Edit
The base is a standard camp. Beware that there is a sniper on the water tower. There are two entrances; one to the north-west and one to the south-east. In the base itself, a lot of wooden barrack buildings, hangars and some wooden Guard Towers can be found, together with other smaller things like Fuel Depots and containers. The base is so close to the public road network, that ground reinforcements are able to come via the base entrances.
The name means "In the forest" in both Malay and Indonesian; a name that fits the base well.
In the middle of the Selatan Archipelago, east of Pulau Dongeng.
Completion
Edit
Note: One of the Broadcast Towers is found together with one of the Generators at the south-east entrance. It seems that they are outside the settlement borders, but actually, they aren't.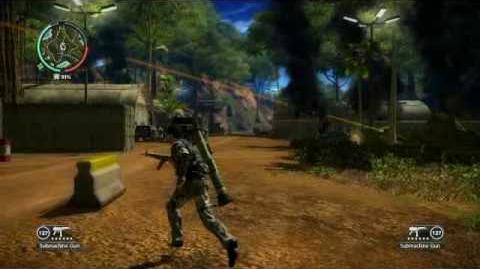 Ad blocker interference detected!
Wikia is a free-to-use site that makes money from advertising. We have a modified experience for viewers using ad blockers

Wikia is not accessible if you've made further modifications. Remove the custom ad blocker rule(s) and the page will load as expected.