This article has been evaluated to be at quality level 5.
This article may seem complete to the untrained eye, but the gaps in information are still large enough for this elite team of Panauan Ninjas to hide inside of.
Kampung Kerang Hitam is a village in Just Cause 2.
Description
Edit
This is the starting place of the mission "Taming the Beast".
The village is of medium-size. It consists of a bunch of higher-standard wooden houses with red roofs, a marketplace and others. It's located in a jungle below the Berawan Besar Mountains. A Propaganda Trailer can be found in the middle of the village.
The name means "Black Shells Village" in Malay.
At a major crossing point, where several roads meets, in the most western part of the Berawan Besar Mountains influencal area.
Completion
Edit
Two weapon parts, which do not contribute to the settlement completion, are located just north-west of the settlement.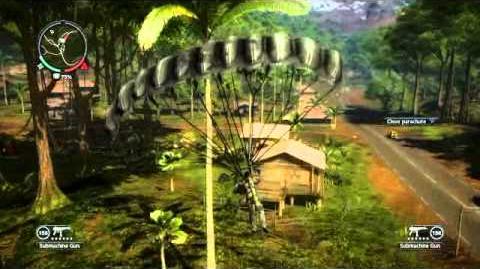 Ad blocker interference detected!
Wikia is a free-to-use site that makes money from advertising. We have a modified experience for viewers using ad blockers

Wikia is not accessible if you've made further modifications. Remove the custom ad blocker rule(s) and the page will load as expected.