This article has been evaluated to be at quality level 5.
This article may seem complete to the untrained eye, but the gaps in information are still large enough for this elite team of Panauan Ninjas to hide inside of.
Kem Pulau Kerbau is a port in Just Cause 2.
Description
Edit
The name of this port means "Buffalo Island Camp" in Malaysian.
It covers a whole island and therefore looks very large on the map, but despite the fact that it is a harbor, the dock has no boats. This harbor doesn't look useful for transportation. The geography of the overall stronghold is much like that of any other harbor in Panau.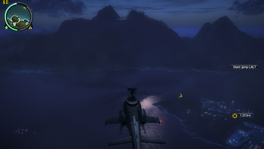 Don't try to kill every soldier you see here, because due to its size, this is one of the few bases that spawns an infinite amount of soldiers. In fact, this is definitely a good place to go to if you're looking for a good shoot-out. But remember: The Panau Military only spawn unless you haven't completed the location to 100%. The port is located just south-west of the large Selatan Oil Field.
The non-completion-related items at this base include:
Completion
Edit
Despite this being a port, there are no boats. Perhaps during game development, someone forgot to generate some boats spawning here? There are 6 helicopter landing pads, but no helicopters, oddly enough.
Ad blocker interference detected!
Wikia is a free-to-use site that makes money from advertising. We have a modified experience for viewers using ad blockers

Wikia is not accessible if you've made further modifications. Remove the custom ad blocker rule(s) and the page will load as expected.