This article has been evaluated to be at quality level 5.
This article may seem complete to the untrained eye, but the gaps in information are still large enough for this elite team of Panauan Ninjas to hide inside of.
Kem Tentera Timur
Settlement in Panau
Type
Military base
Territory
West Tanah Raya
Coordinates
X:11050; Y:8300
Missions that take place here
None
Kem Tentera Timur is a military base in Just Cause 2.
Description
Edit
It's a medium-sized base, with about 6-7 concrete bunker buildings, 4 hangars and a bunch of concrete Guard Towers. There are two helicopter landing pads in the base, both of them are occupied. The base has two entrances, both with a Minigun. There are multiple medicine cabinets and weapon boxes throughout the base. The water tower and one guard tower have soldiers with sniper rifles. One guard tower (sometimes possibly 2) has a soldier with a Grenade Launcher.
Be careful when attacking this base from air, as there are 2 SAMs guarding it.
The name means "East Army Camp" in Malaysian, which is a pretty weird name, as this is the western part of Panau.
In the eastern part of West Tanah Raya, just south of Pekan Desa. Two parts of a split-up public road surround the base. The base is just south of a mountain and it's surrounded by a jungle. There's a small cliff on the western side.
Completion
Edit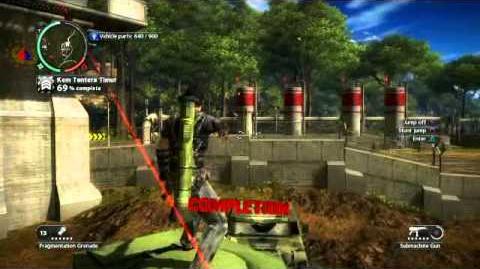 Ad blocker interference detected!
Wikia is a free-to-use site that makes money from advertising. We have a modified experience for viewers using ad blockers

Wikia is not accessible if you've made further modifications. Remove the custom ad blocker rule(s) and the page will load as expected.