Kepulauan Pelaut Alpha is a Communications Outpost in Just Cause 2.
Description
Edit
The settlement is a usual outpost, with the communicatons station, the small wooden barrack building and other equipment that's usual for these outposts. As usual, there's also a
Medicine cabinet
. The outpost is located just south of
Pulau Kait
, in a forest, close to a public road. It can be easily missed, especially when close to two large harbours filled of destructibles, like in this case.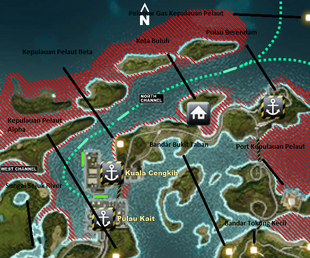 Completion
Edit
No vehicles are known to be spawning here.
Ad blocker interference detected!
Wikia is a free-to-use site that makes money from advertising. We have a modified experience for viewers using ad blockers

Wikia is not accessible if you've made further modifications. Remove the custom ad blocker rule(s) and the page will load as expected.