This article has been evaluated to be at quality level 5.
This article may seem complete to the untrained eye, but the gaps in information are still large enough for this elite team of Panauan Ninjas to hide inside of.
Kepulauan Selatan Epsilon is a Communications Outpost in Just Cause 2.
Description
Edit
It's probably the biggest Communications Outpost in Panau. This, like all other ones that will call for air support if you activate one of the terminals on the station. The only vehicle present is an H-62 Quapaw. There's a mounted minigun on top of the bunker. It is the only communication outpost that hosts a SAM site.
This is also one of only two communications outposts that hosts a communications mast.
This outpost gets an unarmed UH-10 Chippewa as air support.
There is an unusually massive amount of guards at this facility. Probably because of its exceptional size anyway.
On a mountain in
Selatan Archipelago
, at X:27730; Y:29460.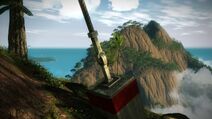 Completion
Edit
Ad blocker interference detected!
Wikia is a free-to-use site that makes money from advertising. We have a modified experience for viewers using ad blockers

Wikia is not accessible if you've made further modifications. Remove the custom ad blocker rule(s) and the page will load as expected.