This article has been evaluated to be at quality level 5.
This article may seem complete to the untrained eye, but the gaps in information are still large enough for this elite team of Panauan Ninjas to hide inside of.
Koji Kuasa Panau Utara
Settlement in Panau
Type
Electrical power station
Territory
Pelaut Archipelago
Coordinates
X:21870; Y:6450
Missions that take place here
None
Koji Kuasa Panau Utara is a small settlement in Just Cause 2.
Description
Edit
Its name means "North Panau Power Plant" in Malay and it has several Wind Turbines, Generators and Transformers, but it's marked on the map like a village. A big pipeline crosses the settlement, but the control panel is located out of settlement limits in the north-west.
The correct Malay translation for Power Plant is Loji Kuasa. Koji is likely a typing error. This is confirmed by there being two other settlement names that begin with Loji and by the letters K and L being next to each other on a standard keyboard.
Real turbines of this size may produce 1 to 1.5 MW (Megawatts) of electricity, so the total energy output here would be about 3 to 4.5 MW.
Completion
Edit
No vehicles are known to be permanently spawning here.
In Pelaut Archipelago, along the M2 Highway.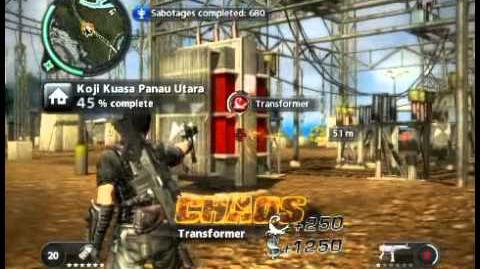 Ad blocker interference detected!
Wikia is a free-to-use site that makes money from advertising. We have a modified experience for viewers using ad blockers

Wikia is not accessible if you've made further modifications. Remove the custom ad blocker rule(s) and the page will load as expected.