This article has been evaluated to be at quality level 5.
This article may seem complete to the untrained eye, but the gaps in information are still large enough for this elite team of Panauan Ninjas to hide inside of.
Kota Kuala Delima
Settlement in Panau
Type
Village
Territory
East Tanah Raya
Coordinates
X:27675; Y:13580.
Missions that take place here
None
Kota Kuala Delima is a village in Just Cause 2.
Description
Edit
The village is located on the bank of the Sawah river. The Mile High Club is visible from the location.
There are 2 small boat wrecks located in the village, each having a Resource Item in it. The settlement also contains one Drug Drop near the southern edge of the village, to the east of the river and to the west of the beached boat.
The buildings in the village are mostly one- or two-story slum shacks built next to the river. Small wooden cabins can be found in the upper parts on each side of the river, and several market pavilions can also be found there.
The name means "Pomegranate Rivermouth City" in Malaysian.
Completion
Edit
Completing the settlement will give you 500 Chaos points and 2500 dollars.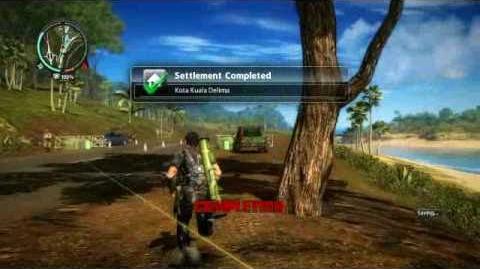 Ad blocker interference detected!
Wikia is a free-to-use site that makes money from advertising. We have a modified experience for viewers using ad blockers

Wikia is not accessible if you've made further modifications. Remove the custom ad blocker rule(s) and the page will load as expected.