This article has been evaluated to be at quality level 5.
This article may seem complete to the untrained eye, but the gaps in information are still large enough for this elite team of Panauan Ninjas to hide inside of.
Libeccio
is a province in
Just Cause 3
.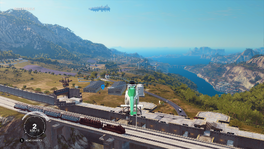 Description
Edit
Libeccio is a fairly spacious province with large open fields, woodlands and wildlife. Its towns are rather high class compared to the majority of the towns in Medici.
Nacre has a large town hall with some sort of flower garden opposite it. There is also a street bustling with shops and people.
Moving up the province, there is a lake which has Burgoletto, a thin, but high class town, to the east.
There is another lake more north of the province near the Insula Striate wall. It attracts people since there is a coast with a few sunbathers and a tourist. North of the lake is a ruin where three tourists spawn, taking a photo in front of the colosseum.
There is a large mountain in the center of this province, it is just slightly smaller than the volcano. There is a plateau that has another town called Vista Dracon.
On the far south-west coast of Insula Striate. It borders with Regno to its right side and the south coast of Libeccio offers a view of the bridges which connect Insula Striate and Insula Dracon together.
Settlements and points of interest
Edit
Unnamed industrial facility at N 40 46.590 E 5 37.400. There's a few more points of interest a few hundred meters south of here.
The Squalo X7 can be found at the lake in northern Libeccio. This is one of only two places in Medici where this vehicle can be found.
Sancte Elena.
Junkyard with several Vehicle wrecks.
Several abandoned-looking, but otherwise fine private houses.
Private house with a big wall. The wall has been broken by an attacking CS Odjur that is now a wreck.
Graveyard at about N 40 45.650 E 5 38.000, down the road from Burgoletto.