This is a list of ports, in
Just Cause 2
.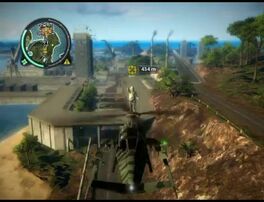 Info summary
Edit
There are 19 ports in total, around the coasts of Panau. They are all classified as Military Ports and entry is prohibited. The ports are either located beside the ocean or on a river. Even if all of them are classed as military, some or many of them are also used for a civilian purposes. Many of these must have existed before the time of Pandak "Baby" Panay.
Largest ports in Panau:
Oil Harbors
Edit
Only a couple of ports have an oil harbor. All oil harbors have oil cisterns at the place. Panau imports medium amounts of oil from Brunei at these ports, except for the one at Pulau Berapi.
See Also: Panauan Oil
List of ports, by district
Edit
This list might be incomplete.
| Name | X | Y | Purpose | Size |
| --- | --- | --- | --- | --- |
| Port Kuala Besar | 16126 | 12775 | Military port | Small |
| Pulau Berapi | 14841 | 17309 | Oil harbor and refinery | The port section is small while the settlement is large. |
| Pasir Putih | 12998 | 19235 | Military port | Medium |
Ad blocker interference detected!
Wikia is a free-to-use site that makes money from advertising. We have a modified experience for viewers using ad blockers

Wikia is not accessible if you've made further modifications. Remove the custom ad blocker rule(s) and the page will load as expected.