Maddox FVA 45
Talk

2
1,008pages on
this wiki

The Maddox FVA 45 is an armed patrol buggy in Just Cause 2.
Appearance
Edit
It's based on a Chenowth DPV (Desert Patrol Vehicle). Most of them have a Mounted Gun, but some of the ones that spawn in Military bases in Panau are unarmed. The unarmed ones still have a turret ring.
This is a very odd vehicle, because all Maddox FVA 45s have an Ular Boys logo painted in the side, indicating that even the ones that spawn in military bases belong to the Ular Boys (possibly stolen by the military), but if you use the horn, instead of a horn you hear the Panau Military siren.
Performance
Edit
The Maddox FVA 45 has excellent handling, make it a superb choice for offroad use. Its small form factor helps boost its not-inconsiderable speed and makes it perhaps the most suitable vehicle for jungle use. Acceleration and speed are good, although not sufficient to outpace
military vehicles
.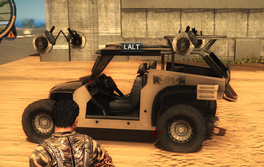 | | |
| --- | --- |
| Top Speed: | 60 |
| Acceleration: | 42 |
| Armour: | 50 |
| Handling: | 60 |
Locations
Edit