Mancini Cavallo 1001
Talk

0
1,006pages on
this wiki
Mancini Cavallo 1001
Vehicle in Just Cause 2
Type
Sports car
Weapons
None
Rarity
Rare
List of owners
Civilians
Foreign millionaires

The Mancini Cavallo 1001 is a sports car in Just Cause 2.
Appearance
Edit
The nose (especially the headlights) seems to be a compressed version of the
Jaguar XKR
's, or the
Maserati GranTurismo
, whilst the tail seems to come from another car, possibly the
Maserati Birdcage 75th
concept car.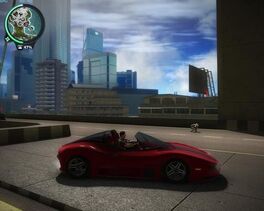 Performance
Edit
As a sports car it is very fast, but the handling is odd. At full speed it feels heavier than expected but when you brake to go around a corner it likes to 'drift' and takes a little getting used to (you will notice this if you drive on the racetrack at Bandar Selekeh). It can easily be used to pull down Baby Panay statues due to it's high acceleration and speed. It's raw speed means that it could make a full lap of the Bandar Selekeh racetrack within minutes. It can outrun the Panauan military during chases if the car as a whole is still in good condition.
It also has a tendancy to skid off the road for no reason when you hold the brake for too long. It's better to tap the brake than hold on the brake. Also it is likely to spin out of control when brushing objects at high speeds at certain angles, so you may want to drive this car at a lower speed. An experienced drifter could adapt to this vehicle easily. Just avoid making turns in narrow streets. The Cavallo cannot take too many crashes before the engine starts to smoke, so be careful about where and when you use this car.
The table (other than the first 2 rows) is from the official strategy guide:
| | |
| --- | --- |
| Top speed in km/h: | 186.3 |
| Top speed in mil/h: | 115.8 |
| Top speed: | 85 |
| Acceleration: | 90 |
| Armour: | 27 |
| Handling: | 75 |
Locations
Edit
It's otherwise one of the rarest vehicles, but it's rather common in Panau City.