Maps
Talk

0
1,067pages on
this wiki
This is a page for all the maps of the
Just Cause game series
.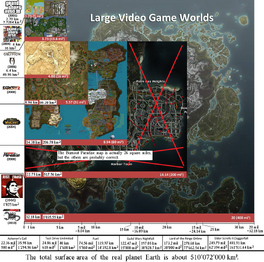 Common info
Edit
The Just Cause game series is known for having the largest maps for "sandbox"-type games. The playable area of Just Cause (1) is 1'025 km2 and Just Cause 2 is 1'035.55 km2.
Just Cause games provide in-game maps (in the PDA), but the map in Just Cause (1) does not provide info about settlement names and in some places it's difficult to distinguish a military base from a village. The main complaint is the lack of a player controlled map marker, which makes navigation difficult. The map in Just Cause 2 has more features, but there's no accurate way to set the map marker, causing all seemingly accurate co-ordinates to be inacurate by about +/- 5 m.
Just Cause (1)
Edit
All maps of San Esperito on this wiki:

Military bases
Edit
This map shows the locations of all the
Military bases in San Esperito
. See the full size image and use the numbered list of bases. See also:
San Esperito Military
.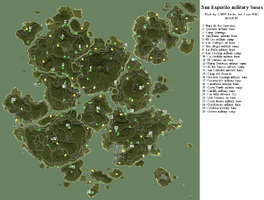 1 Base de los Guererros
2 Quesada
3 Camp Durango
4 San Mateo
5 El Oro
6 Los Hidalgos
7 Isla Alegre
8 La Perla
9 Las Crucitas
10 La Perdida
11 El Crucero
12 Maria Dolorosa
13 de los Bravos
14 San Cristobal
15 Camp del Rosario
16 Osvaldo Guzman
17 Encarnación
18 Caballeros
19 Costa Verde
20 Castillo
21 Los Islas
22 Don Velasco
23 Costa Brava
24 Don Ernesto
25 Córdoba
26 Octava
Just Cause 2
Edit
All maps of Panau on this wiki.
---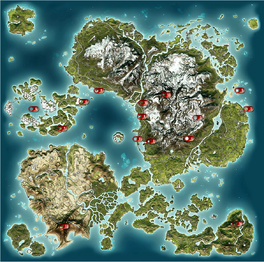 ---
Interactive map
Edit
Main article: Interactive Map of Panau.
For an external, more detailed version click this link.