Meyer Compact T
Talk

0
1,007pages on
this wiki
Meyer Compact T

At an EL gas fuel station.
Vehicle in Just Cause
Type
Van
Weapons
2 have Mounted Guns.
Rarity
Unarmed - Common.
Armed - Mission only.
List of owners
Civilians
Un-named gang/faction

The Meyer Compact T is a small van in Just Cause (1).
Appearance
Edit
It's a small van. Probably of a European origin. It looks very similar to the
Reichsmobile Transport
.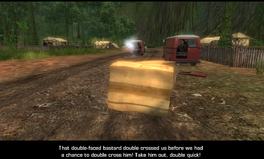 Performance
Edit
As long as you don't want to drive fast, it's not too bad.
Versions and locations
Edit
There's two versions of this.
The usual one spawns in traffic all over San Esperito.
Some gangsters have two armed ones in the mission Brothers in Arms. They have Mounted Guns in the cargo room. Obtaining this one requires failing the mission. You'll have to set Triggered Explosives near Esperanza; then run to the van while ignoring all enemy fire (lack of time to shoot) and then detonate the explosives and thereby fail the mission.