This article has been evaluated to be at quality level 5.
This article may seem complete to the untrained eye, but the gaps in information are still large enough for this elite team of Panauan Ninjas to hide inside of.

Mounted Guns are weapons in the Just Cause game series.
Just Cause
Edit
In Just Cause (1) they appear as the most common vehicle weapons. It's a large black heavy machine gun (link to wikipedia), possibly based on the Browning M2.
It's always mounted on a tripod.
The PS2 version of the game allows the player to switch between auto-aim and manual aim, but oddly the PC version only has auto-aim.
Locations
Edit
It's a very common vehicle weapon. All factions own some vehicles with it.
Just Cause 2
Edit
In
Just Cause 2
it's completely different. It looks like a usual
Machine Gun
. The mount is no longer a tripod. It's always in a turret, which is also equipped with a small shield.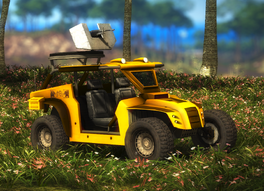 In use, it's very similar to the Minigun, the main differences being fire rate and locations. Miniguns are often referred to as Mounted Guns by the Faction members, but the Minigun is a different weapon and is detachable from its mount, whereas the Mounted Gun is always fixed and only used on vehicles.
Mounted guns fire about as fast as a one-star Machine Gun, and have the same power as one too. These turrets require one person to operate them, and another person to drive the vehicle. When on a vehicle such as a Helicopter, the Mounted Gun has the same fire rate and damage of a Minigun as well. In addition, the turret is controlled by the driver, allowing for strafing runs.
Locations
Edit
It's the most common vehicle weapon.
Holding glitch
Edit
See also: Just Cause 2 Weapon glitches.
 All Platforms   If one is in a mounted gun turret (tested on boat + Ular Boys vehicle), then saves the game, then immediately loads the game without resuming it, Rico will spawn in the nearest faction HQ, holding the mounted gun. It will be floating at his knees, pointing to the upper right. Rico's arms will be in a position as if he's holding the Minigun. The player can still fire the weapon and bullets fire forward from the front of the gun, even though it is facing the wrong way. The player can drop the gun like a minigun, but cannot pick it up again once dropped. If you try to use your Machine Gun or Assault Rifle, its reserve ammo count will be empty, except for a full magazine already in the weapon. Every time you load that particular saved game, you will encounter this glitch. It will be fixed if you save the game again and load the new file.
Just Cause 3
Edit
In Just Cause 3 the CS Powerrun 77 patrol boat and Urga Szturm 63A army car are equipped with large mounted machine guns. In the game they're called "machine gun". They cause a little more damage than the JC2 version, but nolonger have any recoil and produce a much smaller muzzle flash.
Ad blocker interference detected!
Wikia is a free-to-use site that makes money from advertising. We have a modified experience for viewers using ad blockers

Wikia is not accessible if you've made further modifications. Remove the custom ad blocker rule(s) and the page will load as expected.