Ninjas
Talk

0
1,007pages on
this wiki
Ninjas
are characters in
Just Cause 2
.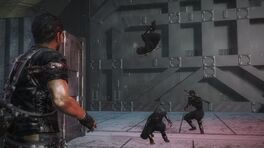 Description
Edit
They're high ranking soldiers in the Panau Military, most likely serving as the special forces for the island. They wear the usual all-black ninja uniforms. They're armed with Submachine Guns. They are mostly seen around Pandak "Baby" Panay as his own personal body guards. Ninjas are a rare sight, only appearing in specific missions.
They appear in the missions "Mountain Rescue", "Into the Den" and "A Just Cause".
They seem to be used for the most important tasks, like protecting Pandak "Baby" Panay in his fortress and kidnapping dangerous criminals, such as Jade Tan.
Teleporting
Edit
When Rico approaches them, they disappear in a puff of smoke and reappear roughly six to ten meters away. They rarely just stand around. Usually they teleport almost immeditately after seeing that you're aiming at them. However, they can't teleport while they're being hit by a stream of bullets, so shoot fast.
If you're still having trouble, try to Grapple them to a solid object to prevent them from teleporting.
Ways to kill them
Edit
They have high health, similar to a Demolition Officer.
The easiest ways to kill them are:
Headshots.
Grapple them to something and then kill them the usual way.
Act quickly and shoot them the old fashioned way. Note that this has to be done fast. See the teleporting section above.