This article has been evaluated to be at quality level 6.
Bolo finds this pleasing, but she would like more.
The
Panau Police Department
is an organization in
Just Cause 2
.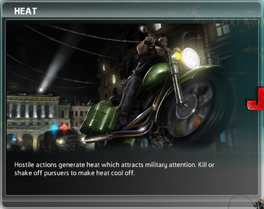 Who they are
Edit
They are the official police of the nation of Panau.
Do they really exist?
Edit
No. At least not completely. Just Cause 2 was originally supposed to have a separate police department, just like the San Esperito Police Department in Just Cause, but it was cancelled for unknown reasons (see Cut game content from Just Cause 2). There's still multiple references to them in the game.
Members of the Just Cause 2 Multiplayer development team have reported about the Vaultier Patrolman that:

The original model for the vehicle is an actual police car, which is still found in the game files.
The files for the police are: "lave.v002_police.eez" and "v002police-body_m.lod".
Using the Patrolman's horn turns on a siren, meaning that this wasn't removed when the car became civilian.

The Panau Broadcasting Company mentions them after some missions:
One of the loading images shows the Panau police.
Civilians sometimes say 'they took her and put her in jail' this may suggest that there is at least one police building as jails are usually in there, but it could also be pointing at prisons in military bases.
The PDA has this to say about Colonel Bachtiar Saleh: "The dirty cops of the city are only surpassed in corruption by the dirty military personnel, especially Colonel Bachtiar Saleh, who has made a name for himself as one of the most crooked government officials to ever walk a city street."
Unknown.
The unused policeman character model is armed with a Pistol on his belt and an Assault Rifle on his back. This probably just means that the person who provided the picture (not the same as the uploader) had replaced Ricos model with this one (as can be done on Just Cause 2 Multiplayer). Normal NPCs hold one weapon in hand and keep others hidden, until they replace them. This can be seen when Panau Military soldiers replace a Submachine Gun with another weapon when getting into/out of vehicles during a chase.
Ad blocker interference detected!
Wikia is a free-to-use site that makes money from advertising. We have a modified experience for viewers using ad blockers

Wikia is not accessible if you've made further modifications. Remove the custom ad blocker rule(s) and the page will load as expected.