This article has been evaluated to be at quality level 5.
This article may seem complete to the untrained eye, but the gaps in information are still large enough for this elite team of Panauan Ninjas to hide inside of.
Pasir Putih is a port in Just Cause 2.
Description
Edit
The name means "White Sand" in Malaysian and Indonesian. The port is of medium-size, and holds a lot of a equipment such as several fuel depots and a crane. Colonel Che Soon is at the port, in the eastern corner of the area.
Underground here, a pipeline with raw oil from Pelantar Minyak Gerudi Besar goes from here and over to nearby refinery Pulau Berapi. The pipeline continues from there and goes all the way to the Emas Hitam Oil Refinery.
A lot of containers and cargo can be found here, along with 3 flak cannons and 7 miniguns.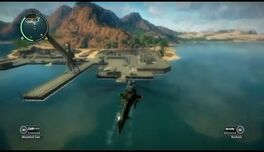 Panau Tengah Bay, at X:13000; Y:19235, just south of Pulau Berapi.
Completion
Edit
2 x MV V880. Oddly, one of them is in forest camo.
Ad blocker interference detected!
Wikia is a free-to-use site that makes money from advertising. We have a modified experience for viewers using ad blockers

Wikia is not accessible if you've made further modifications. Remove the custom ad blocker rule(s) and the page will load as expected.