Paya Luas
Talk

0
1,008pages on
this wiki
Paya Luas
Settlement in Panau
Type
Military airport.
Territory
Pelaut Archipelago
Coordinates
X:28430; Y:5970.
Missions that take place here
None
Paya Luas is a military airport in Just Cause 2.
Description
Edit
Its name means "Vast Swamp" in Malay. The airport comprises of two paved runways, which intersect each other. It is connected by road to the Panau Motorway System. The airport is less than 5 km from the districts other airport, Sungai Cengkih Besar Airport, which also has two runways. There's also several Guard Towers there and a lot of Fuel Depots. Although this is one of the biggest airports in Panau, no SAMs spawn there. This lack of SAMs suggests that the location was a civilian airport before the Pandak Panay regime. Civilian workers are allowed to work there. The area will be completely deserted by the military after completion, but civilian workers will still be present. This allows for easy access to the vehicles that spawn here that would be protected at other bases.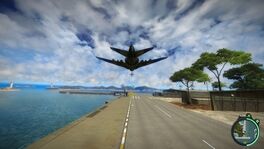 Completion
Edit
In the north-eastern part of the Pelaut Archipelago, at X:28430; Y:5970, just north of Emas Hitam Oil Refinery.
This airport is notable because it's one of the few locations that spawns the SV-1007 Stonewall and because most vehicles that spawn here will make the aiming box green, meaning that you won't get Heat by being seen on them. This is the only airport with this feature.