This article has been evaluated to be at quality level 5.
This article may seem complete to the untrained eye, but the gaps in information are still large enough for this elite team of Panauan Ninjas to hide inside of.
Pekan Belalang is a settlement in Just Cause 2.
Description
Edit
The settlement is mostly a tourist beach resort. The southern part consists of the resort, while the northern part consists of a residential area for Panauan citizens. The name means "Grasshopper Town" in Malaysian and Indonesian.
The most of the resort consists of a lot of modern bungalows constructed on wooden piers. The piers are covered with sunchairs, sofas and other such comfortables. The main hotel building is on dry land, near the road. It seems that only rich foreigners can afford staying here.
Residental Area
Edit
There's a small residential area for Panauan citizens to the north of the resort. It's possible that poor workers for the resort live here. It's made up of a bunch of wooden cabins; a fishing port; some slum shacks; a Propaganda Trailer and a small Panau Military checkpoint.
The resort settlement was a part of President Panay's plan of turning Panau into a playground for rich foreign tourists. In the plan for Senjakala Islands and Selatan Archipelago he erected a whole bunch of beach resorts and the luxury Three Kings Hotel. Foreign millionaires are being given more rights than average citizen of Panau.
Pekan Belelang is located on the eastern side of Pulau Kenjantanan, in the Senjakala Islands. It is built close to the main paved road connecting all the western Senjakala Islands.
Completion
Edit
There is a small airstrip located just north of the residential area.
Further north from the airstrip is a Mobile Radar.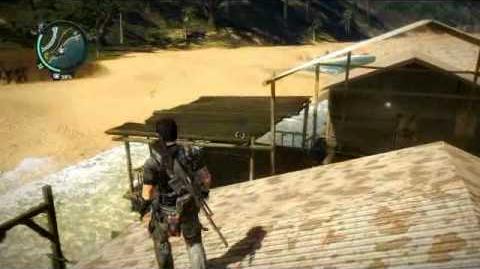 Ad blocker interference detected!
Wikia is a free-to-use site that makes money from advertising. We have a modified experience for viewers using ad blockers

Wikia is not accessible if you've made further modifications. Remove the custom ad blocker rule(s) and the page will load as expected.