This article has been evaluated to be at quality level 5.
This article may seem complete to the untrained eye, but the gaps in information are still large enough for this elite team of Panauan Ninjas to hide inside of.
Pekan Kemilau
Settlement in Panau
Type
Village
Territory
Pelaut Archipelago
Coordinates
X:27670; Y:8100
Missions that take place here
None
Pekan Kemilau is a village in Just Cause 2.
Description
Edit
The name means "Town of Ecotourism" in Malaysian. The village is separated into two district areas, owing to its location on three islands: A smaller portion (the northern half) lies on the southern tip of the large island that's known for being the location of the Paya Luas airport and the other, larger portion (the southern half) lies on a smaller island.
The northern half appears to be poorer and undeveloped, consisting of a shanty town, industrial facilities and docks. A small factory can be found here at the beach to the west. The usual concrete floor of the factory is strangely covered with sand, possibly due to an error by the developers. The southern half consists of a small cluster of modern bungalows surrounding the road leading to the bridge. Beyond this, at the southern tip of the island and outside the settlement, lies an open field, a beach, a small temple and an estate. Just to the north is a third, even smaller island, linked to the main island with a footbridge; located here is the village restaurant.
If you go across the water to the south from the temple, you'll find an odd spot of asphalt on the beach. This is at about X:27540; Y:8525.
Completion
Edit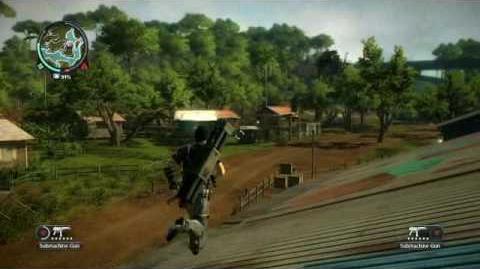 Ad blocker interference detected!
Wikia is a free-to-use site that makes money from advertising. We have a modified experience for viewers using ad blockers

Wikia is not accessible if you've made further modifications. Remove the custom ad blocker rule(s) and the page will load as expected.