Pekan Pondok Getah
Settlement in Panau
Type
Village
Geographical Territory
Panau Tengah Bay
Influential Territory
East Tanah Raya
Coordinates
X:17465; Y:17500
Missions that take place here
None
Pekan Pondok Getah is a village in Just Cause 2.
Description
Edit
The village is pretty small. It is located below the PMS highway bridge along the shore of Panau Falls Lagoon. The village consists of a couple of wooden houses, both cabins and slum shacks.
The name means "Rubber Hut Town" in Malaysian, but the huts here are not made of rubber.
Completion
Edit
This is one of the very few very easy settlements to complete, as there's only 1 collectable item - a Weapon Part. One needs either explosives, or ramming with a vehicle, to break the gates guarding the weapon part.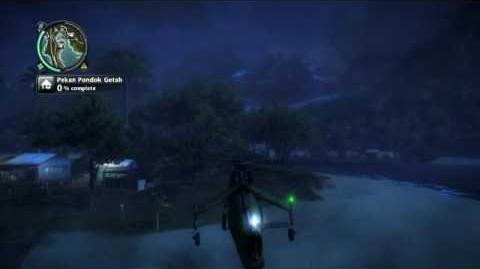 Ad blocker interference detected!
Wikia is a free-to-use site that makes money from advertising. We have a modified experience for viewers using ad blockers

Wikia is not accessible if you've made further modifications. Remove the custom ad blocker rule(s) and the page will load as expected.