This article has been evaluated to be at quality level 5.
This article may seem complete to the untrained eye, but the gaps in information are still large enough for this elite team of Panauan Ninjas to hide inside of.
Pekan Teluk Tengah is a city in Just Cause 2.
Description
Edit
The town is small, consisting of a small port to the south, a temple, and some flat buildings. It's one of two cities in Panau Tengah Bay. The other is Pekan Buah Melambak. A small enterable interior can also be found in a building along the main street, accessible from a small stairway. A wooden helicopter landing pad is also found just southeast of the temple, used in the featured mission, Chemical Heist. There's also a small fish Shop in the town.
The Reapers mission, Chemical Heist, is started in this settlement.
The name means "Central Bay City" in Malay and refers to the cities location in the Panau Tengah Bay.
X:17070; Y:13790. In Panau Tengah Bay, on the coast of Tanah Raya. The city is not far from Karl Blaine's Residence, which is located to the south. Another small city, Pekan Buah Melambak, is also not far away.
Completion
Edit
See also: Just Cause 2 Bugs and glitches.
 All Platforms 

 In the original, unpatched version of the game, this settlement was completable to 100%. In the first updates, a new bug came up, which made the settlement only completable to 94%. This has been fixed in one of the later updates.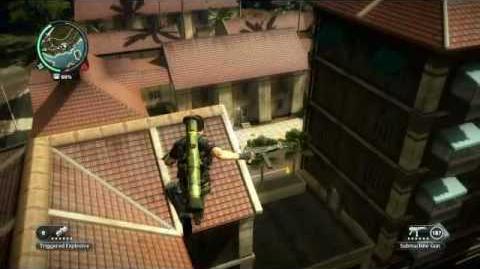 Ad blocker interference detected!
Wikia is a free-to-use site that makes money from advertising. We have a modified experience for viewers using ad blockers

Wikia is not accessible if you've made further modifications. Remove the custom ad blocker rule(s) and the page will load as expected.