Portal:Just Cause 2
Talk

7
1,006pages on
this wiki
Just Cause 2

The player controls protagonist Rico Rodriguez, an Operative of the Agency, sent to Panau to find Tom Sheldon, Rico's former commanding officer, mentor, and friend, now accused of stealing top-secret intelligence and millions in Agency funds.
To complicate matters further, Panau was recently taken over by Baby Panay, a ruthless dictator, who rules the island with an iron fist; causing unrest among its citizens. While three rival Factions, the Reapers, The Ular Boys, and The Roaches, whose constant struggle for power and position often result in all out war on the streets, take advantage of the turmoil. Rico must now work with these Factions to gain information on his target, causing his own brand of Chaos along the way.
Contents
Featured Article
Panau International Airport in the Ramai Rakyat Islands, is the largest non-military airport in Panau, boasting possibly the two longest paved runways in the country. The terminal buildings and control tower are very modern, possibly another vestige of the former regime.
Despite its alleged status as a public international airport, the area around the airport is controlled by the military, and access to the tarmac area is prohibited.
The airport is situated on an island just east of the capital, Panau City. The airport is located just off the motorway. More..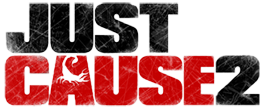 News
Create blog post
Blogs
I just thought of this and I thought the rest of you guys might like to have this. I know we have a Just Cause Wiki but could we make a sort of questions and answers wiki which is about Just Cause bu…

Read more >
See more >